So, today I'm in Aberystwyth but this week has been completely mental. Started off going to ice hockey and TNA in Birmingham - which was
amazing
. I've seen a couple of the One Night Only PPVs and they were
alright
but nothing special; this one was great though. Rockstar Spud is pretty much the best character in professional wrestling.
Then I went to
Childish Gambino in Manchester
with my homegirl Hannah. I've had his stuff stuck in my head for weeks now, but I love him so much. THEN, back in Birmingham - via uni - I went to Killswitch and Trivium. It's not usually what I listen to, but it was great fun. Trivium had to stop twice because of people fainting - they seemed like really cool guys which is always nice. Killswitch was excellent, and THEY PLAYED THE CM PUNK SONG so everything was cool, because everybody loves CM Punk (except WWE).
And finally, I came over to Aberystwyth - one of my favourite places - with Jonny and Josh because staying in Birmingham is too mainstream. Aber is so pretty. It's also damn windy. Such wind, much force. I have an awful habit of being incredibly obnoxious when drunk and telling people that I'm clever. Not entirely sure why I do it. So I took an awful IQ Test on the web, and turns out I'm right but I should probably stop saying it. I probably don't have a 149 IQ, but #YOLO and I believe everything I read on the internet (the last one I took said 160 so I'm rapidly going down).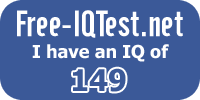 Away from socialising I've been running my password cracker for security for days and days. This was just one of the test, which found one password despite running for two days. The current test has been going for 2 days, 3 hours, 29 minutes, and 23 seconds and has found fourteen, so that's something. Uni's going well, mostly. Team Project is really quite cool, and security is hella interesting. Now it might be time to actually learn something about C and Haskell and we'll be dandy!
Also I've been using
my Instagram
a whole lot more recently, so give me a follow.